The results are clearly visible. The mother plants have grown stronger and more evenly. The plants are virtually disease-free, which means that the drop-out rate is minimal.
Standard cultivation (treated with fungicides)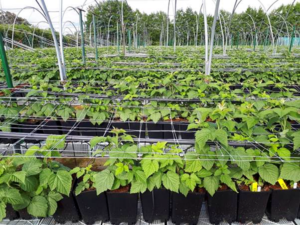 PHC Miniplug + PHC Biovin (no fungicides)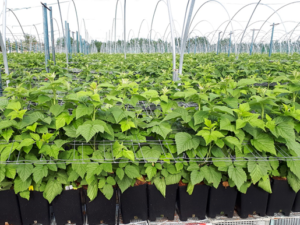 The plants grown in the standard manner show uneven growth and more failures due to Phytophthora. The plants grown with PHC Miniplug (mycorrhizal spores) and PHC Biovin in the potting soil grow faster and are stronger.
Colonisation in progress
Meanwhile, colonisation tests have been done on these plants to assess the development of mycorrhizae. This laboratory research shows that the colonisation is well under way. This can also be seen in the more finely divided rooting with more hairy side roots. This rooting gives a higher fertiliser efficiency, as considerably less fertiliser is washed out.
Although the medium was found to contain phytopthora spores, the plants themselves were not affected. This provides a growth advantage and a cost saving in resources and labour. All in all, the plants make a strong, healthy impression. We will keep you informed of the progress of this practical trial.